Available Treatments
Before any treatment begins...
Our qualified chiropractor will interview and examine the patient in order to determine whether chiropractic care is appropriate for your condition. X-rays, scans and blood tests are not usually required, but can quickly be arranged if required.
Diversified chiropractic adjustments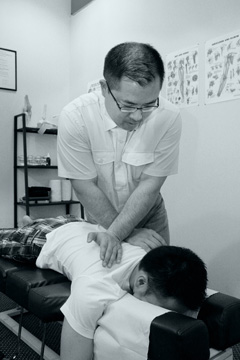 Diversified chiropractic adjustments are done by applying force in a specific direction to the body, and the result is a change in the position and motion of spinal bones or other joints of the body. Force is applied with hands.
You may hear a popping noise, resulting from gas and lubricating fluids in the spinal joints shifting.
Usually you will receive treatment on a special chiropractic table designed of several parts that can be moved to assist the chiropractor in performing the adjustment.
Physiotherapy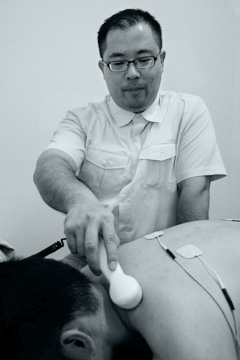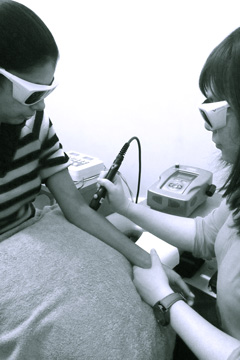 Physiotherapy involves evaluating, diagnosing, and treating a range of diseases, disorders, and disabilities using physical means. Physiotherapy is considered within the realm of conventional medicine.
Physiotherapy treatment begins with an assessment of the patient's condition. This assessment typically includes a medical history review and a physical examination. Both elements are important to successfully examining and treating the patient. The assessment stage may, in some cases, involve diagnostic tests to better evaluate the patient's condition and develop an effective treatment plan.
Treatment is based on the unique needs of the patient through the use various treatment methods, such as musculoskeletal, cardiopulmonary, and integumentary physiotherapy techniques.
Physiotherapy uses a range of treatment techniques to restore movement and function within the body.

Manual methods of treatment:
Joint mobilization
Manual stretching
Therapeutic exercises
Soft tissue manipulation
Non-manual methods of treatment:
Ultrasound
Interferential therapy
Cryotherapy
Electrical stimulation
LASER Therapy
Hot pack
Traction
Kinesio Taping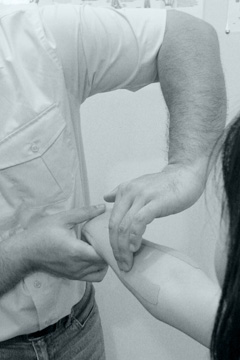 Kinesio Taping gives support and stability to your joints and muscles without affecting circulation and range of motion. It is also used for preventive maintenance, edema, and to treat pain.
Kinesio Taping is a technique based on the body's own natural healing process. This Kinesio Taping exhibits its efficacy through the activation of neurological and circulatory systems. This method basically stems from the science of Kinesiology, hence the name "Kinesio".
Muscles are not only attributed to the movements of the body but also control the circulation of venous and lymph flows, body temperature, etc. Therefore, the failure of the muscles to function properly induces various kinds of symptoms.
The Kinesio Taping method is applied over muscles to reduce pain and inflammation, relax overused tired muscles, and to support muscles in movement on a 24hr/day basis. It is non-restrictive type of taping which allows for full range of motion.
Kinesio Taping is used for anything from headaches to foot problems and everything in between.
Examples include:
muscular facilitation or inhibition in pediatric patients
carpal tunnel syndrome
lower back strain/pain (subluxations, herniated disc)
knee conditions
shoulder conditions
hamstring
groin injury
rotator cuff injury
whiplash
tennis elbow
plantar fasciitis
patella tracking
pre and post surgical edema
ankle sprains
athletic preventative injury method